Having an online presence is imperative for businesses in every industry. For cleaning companies, a well-designed and efficient website can make a significant difference in attracting customers and showcasing their services. In this article, we will delve into the world of cleaning business websites and explore how Bootstrap can be a game-changer in achieving efficiency and style. Let's take a closer look at three exceptional cleaning business Bootstrap website templates that can transform the online identity of these companies.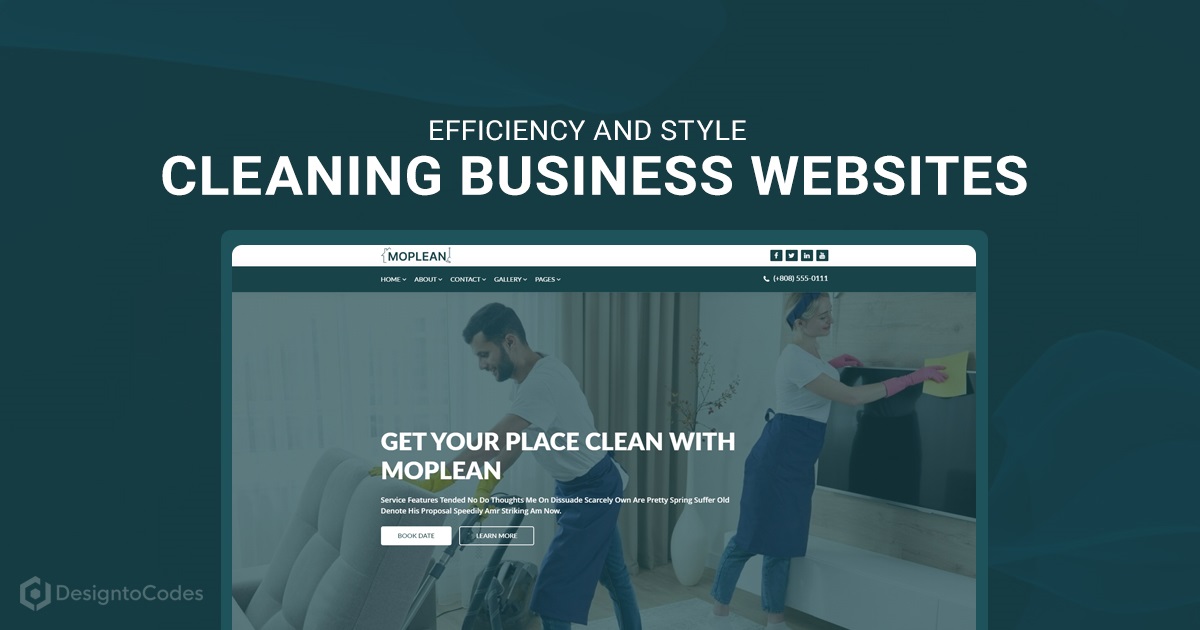 The Importance of Website Templates for Cleaning Companies
Website templates offer cleaning companies a significant advantage because they can save both time and money. Additionally, they provide a sturdy foundation for any future adjustments you might want to make. If needed, you can easily adapt cleaning service templates to meet your specific requirements by incorporating new features. We offer a diverse selection of cleaning company website templates for you to choose from.
Why Choose Bootstrap for Your Cleaning Business Website?
1. Streamlined Development with Bootstrap
Bootstrap is a front-end framework that provides a pre-designed grid system and a huge amount of components. This means faster development and less time spent on coding, allowing you to focus on the unique aspects of your cleaning business.
2. Responsive Design for Mobile Users
In an era where mobile users dominate the internet, having a mobile-responsive website is non-negotiable. Bootstrap ensures that your cleaning business website looks and functions seamlessly on all devices, from smartphones to desktops.
3. Modern and Clean Aesthetics
Cleanliness is at the core of every cleaning business, and your website should reflect that. Bootstrap offers sleek and modern design elements that can be customized to match your brand's color scheme and aesthetics.
4. User-Friendly Navigation
Bootstrap's navigation components make it easy for users to find the information they need. Clear menus, dropdowns, and intuitive layouts contribute to an excellent user experience.
The Power of Bootstrap in Cleaning Business Websites
Bootstrap, the latest iteration of the renowned open-source CSS framework, is designed to simplify the web development process while delivering stunning results. With its mobile-first approach, responsive design, and a plethora of pre-built components, Bootstrap empowers developers to create websites that are not only visually appealing but also highly functional.
Filthy2Fresh – Cleaning Business Bootstrap Website Template
Filthy2Fresh is more than just a name; it's a promise of transformation. This cleaning business Bootstrap website template combines the latest web technologies with a clean and refreshing design. The template offers a range of features that cater specifically to cleaning service providers.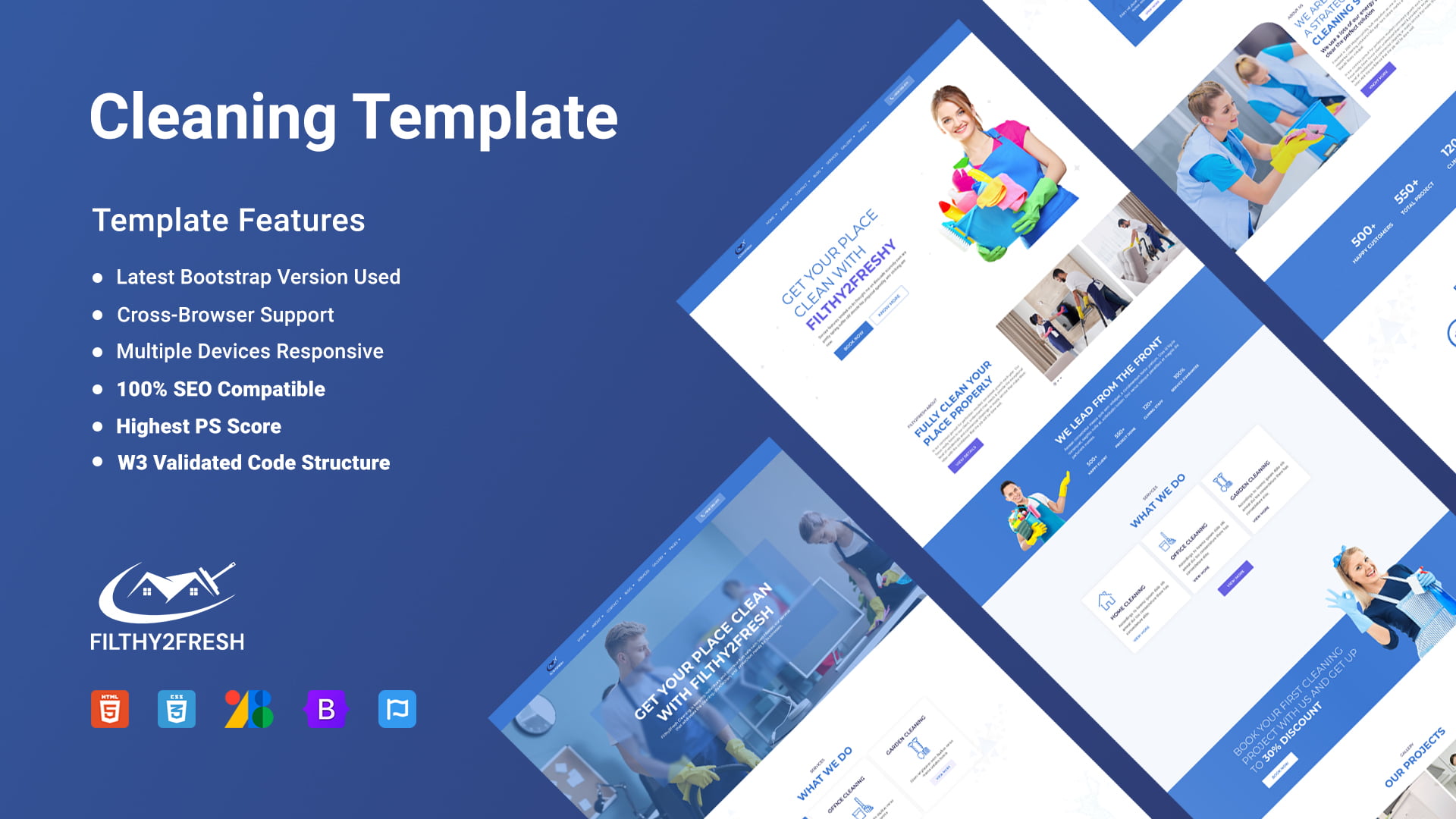 Key Features
Sleek Design: The template's sleek and modern design resonates with customers seeking professional cleaning services.
Service Showcase: Effectively display a wide range of cleaning services, from residential to commercial, using carefully designed sections.
Customer Testimonials: Build trust and credibility with potential clients by showcasing real customer testimonials.
Contact and Booking: Seamlessly integrated contact and booking forms make it convenient for customers to reach out and request services.
Moplean – Cleaning Business Bootstrap Website Template
Moplean exemplifies the concept of elegance and functionality intertwined. This Bootstrap template is tailored to cleaning businesses aiming to project sophistication and reliability.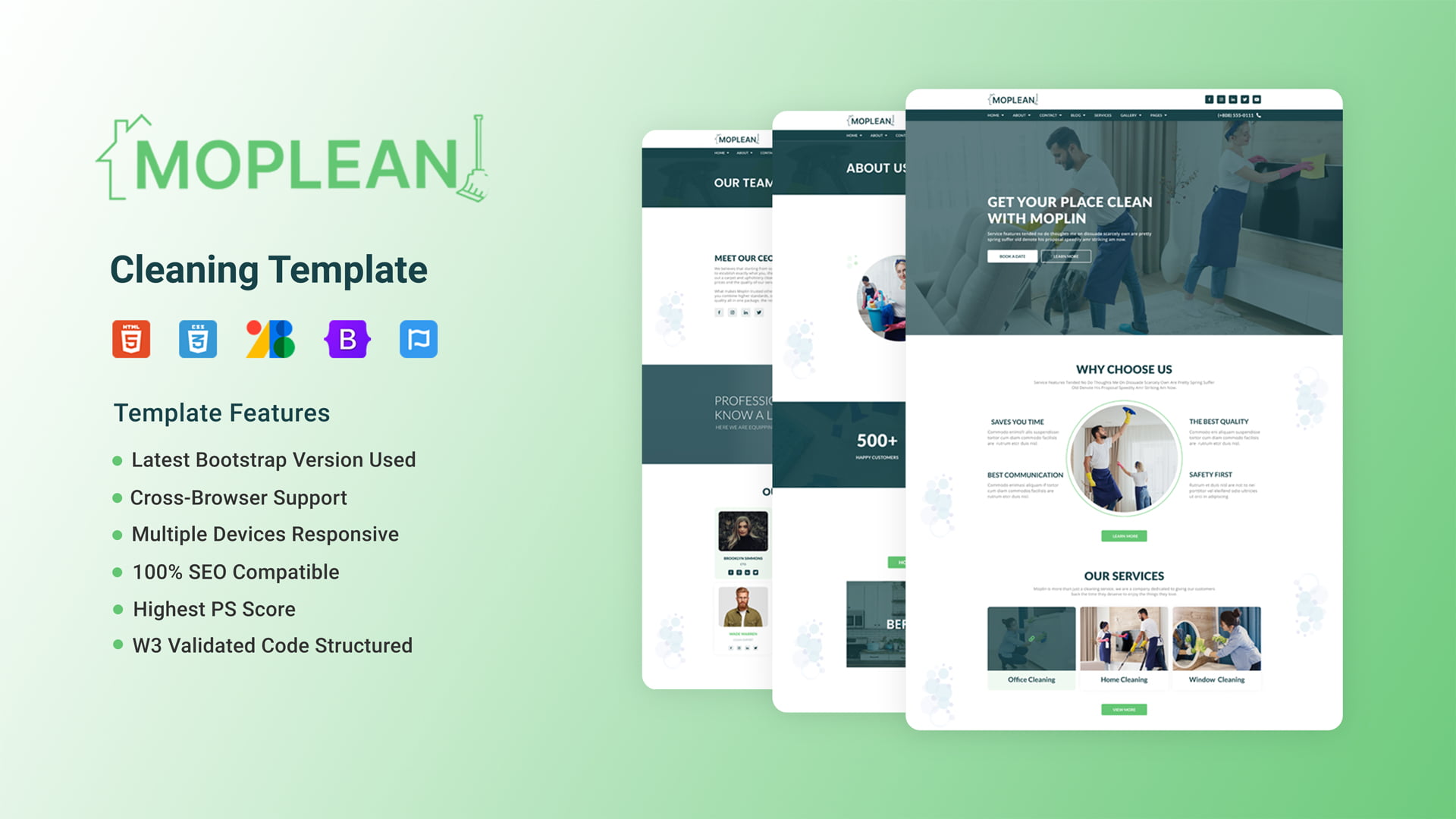 Key Features
Elegant Visuals: Moplean boasts an elegant color scheme and typography, elevating the brand image of any cleaning company.
Interactive Pricing: Transparently present pricing packages with interactive elements that help users choose the right service for their needs.
Service Details: Provide in-depth descriptions of cleaning services offered, giving users a clear understanding of what to expect.
Image Gallery: Showcase before-and-after images of cleaning projects to highlight the tangible results of your services.
Cleanifer – Cleaning Company Bootstrap Website Template
Cleanifer encapsulates the essence of cleanliness and order in its design and functionality. This Bootstrap website template is a perfect fit for cleaning companies that value simplicity and clarity.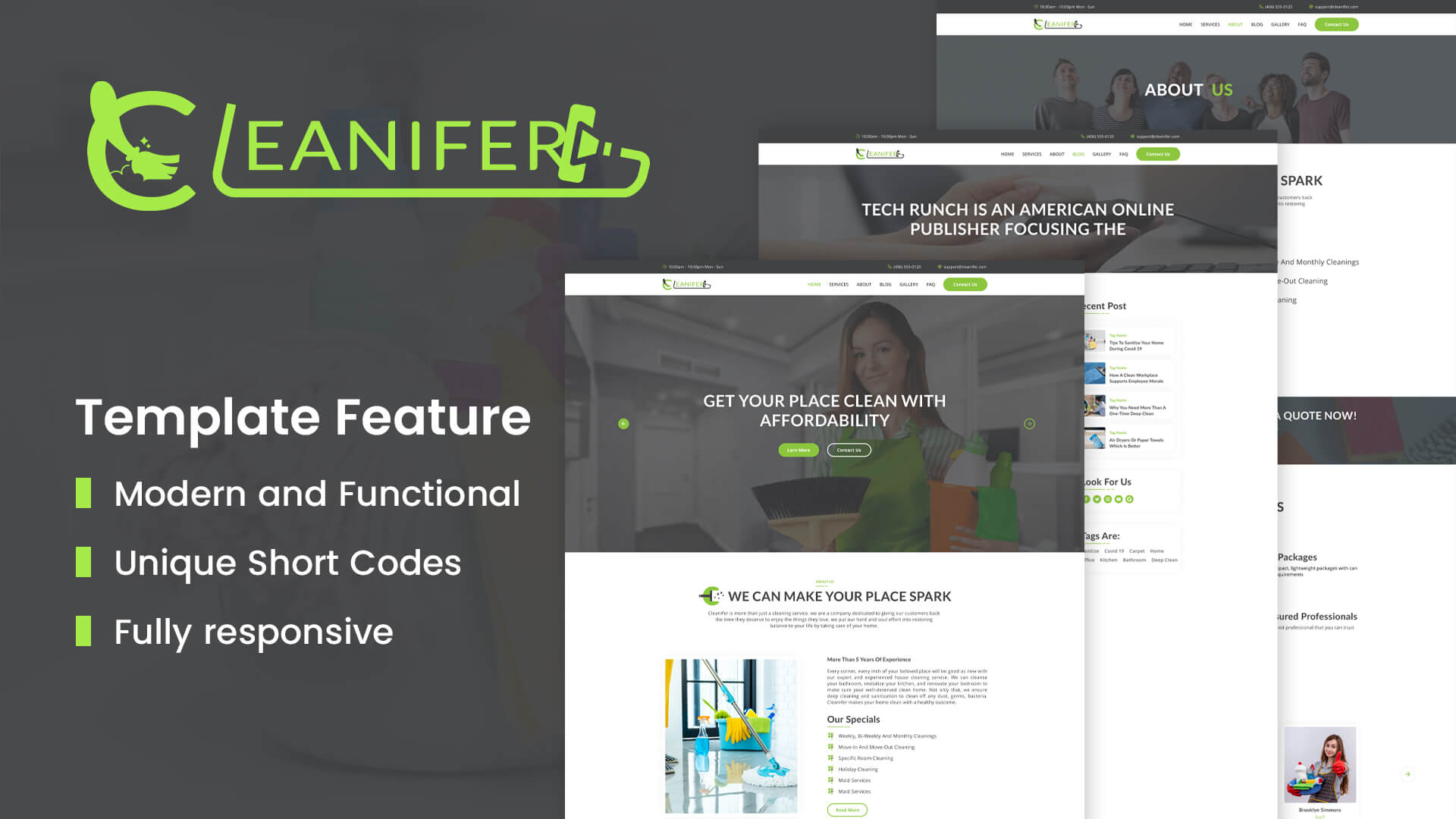 Key Features
Clean Design: Cleanifer's design mirrors the services it promotes, creating an immediate connection with users.
Service Comparison: Help customers select the ideal service by offering a detailed service comparison section.
Frequently Asked Questions: Address common queries through an FAQ section, showcasing your company's expertise and customer-centric approach.
Team Introduction: Introduce the team members responsible for delivering top-notch cleaning solutions, adding a personal touch to the website.
Select the Right Cleaning Service Template for Your Cleaning Company Website
When it comes to your cleaning services website, professionalism and cleanliness are key. You can find various templates that can assist you in achieving this, but how do you select the one that suits your cleaning website design the best? The process of finding the ideal cleaning service template may take a while since there's a wide range of options available, both through Google search and paid alternatives (typically costing between $30 and $300). While the idea of getting something for free is tempting, it's essential not to be misled. Some premium business website templates may demand more effort than others, so it's crucial to thoroughly examine what they offer before hitting that download button!
FAQs
Are These Templates Mobile-Friendly?
Yes, these templates are fully responsive, ensuring an optimal user experience on mobile devices.
Can I Add Additional Features to These Templates?
Certainly! Bootstrap allows for easy integration of additional features and plugins, making it highly versatile.
Can I customize the Bootstrap templates according to my branding?
Absolutely. Bootstrap templates are highly customizable, allowing you to tailor them to match your branding elements seamlessly.
Are these templates optimized for mobile devices?
Yes, Bootstrap templates are built with mobile responsiveness as a priority, ensuring a consistent experience across devices.
Conclusion: Cleaning Business Websites with Bootstrap
In the competitive world of cleaning businesses, a well-designed website can be your ultimate tool for success. Bootstrap, with its mobile-first approach, speed, efficiency, and customization options, empowers you to create a cleaning business website that not only looks stunning but also performs optimally.
Don't miss the opportunity to make a powerful online presence with Bootstrap. Choose one of the carefully curated templates, or work with a professional web developer who specializes in Bootstrap to create a website that truly represents your cleaning business.
Keep in mind that your website is usually the first way potential customers connect with you. Make it efficient, make it stylish, and watch your cleaning business soar to new heights in the digital realm.
You Can Also Read: