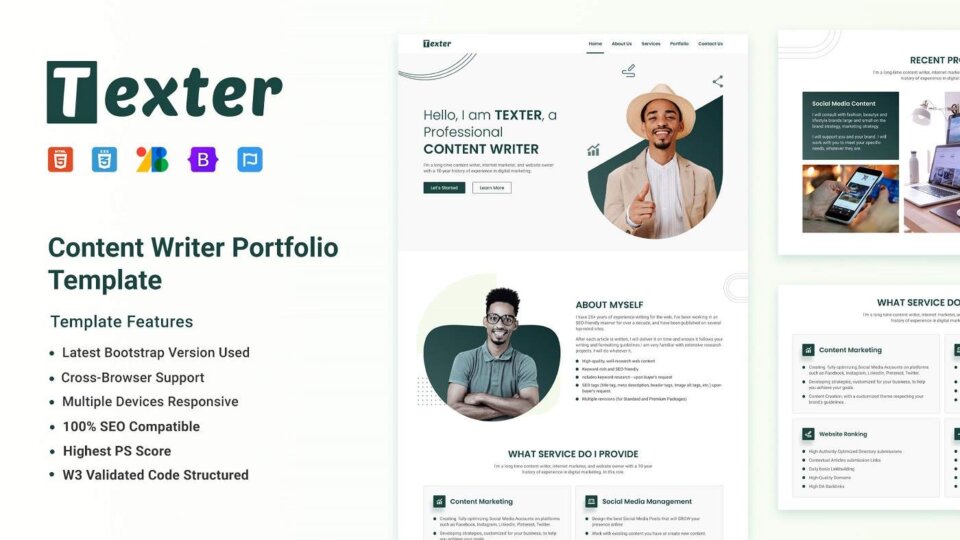 Template Details: Texter – Writer Portfolio Template | Responsive One Page Template
Are you a writer looking to create an online portfolio? Look no further than Texter – Writer Portfolio Template. This responsive One Page template is perfect for any copywriters, freelance writers, web content writers, creative writers, and so on.
Texter offers everything you need to create a professional and stunning website with ease. With this One Page template, you can quickly build your own writer website that will showcase your work and draw in potential clients.
It's simple to customize and set up, making it ideal for busy writers who don't have a lot of time to spare. With this responsive One Page template, you'll be able to create the perfect writer website in no time!
So if you're ready to take your writing career to the next level, then look no further than Texter Portfolio Template.
Texter Features:
Fully Responsive.
Form Validation.
Easy Customizable.
User-friendly Design.
Cross-browser Compatibility.
Clean and Optimized Code.
100% SEO Compatible.
Smooth Scroll Effect.
Bootstrap Latest Version Used.
W3 Validated Code Structure.
Version 1.0.1 (2022-10-13)
-Adding effects on sections
-Adding hover effects on achievement
-Fixing letter spacing for achievement
We do not store any credit card information on our servers, payments are processed by world-leading payment gateways. We are fully secured with our SSL.

Our Incredible Team Working Hard To Maintain Perfect Ready-To-Use Templates.
Our Commitments Are Client Satisfaction With Everything.